Description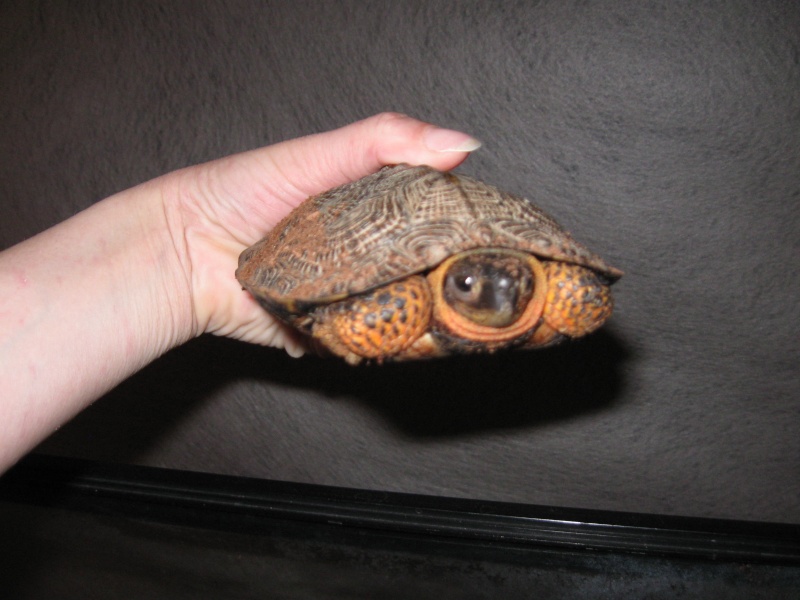 The Wood Turtle is a medium-sized turtle with a broad
shell that is brown or dull-grey in colour. The shell measures 13 to 23
cm long and is low with pyramid-like plates containing growth rings.
Black and yellow lines often radiate from the tips of the shell. The
turtle's underside is yellow and may have irregular dark blotches along
the seams. The skin is generally dark brown to black. Shades of yellow,
salmon-orange or brick-red may be present on the neck and legs. The head
may be speckled with faint yellow dots.
Distribution and
Population
The distribution of the Wood Turtle is restricted to
northeastern North America, extending from Nova Scotia and New Brunswick
south to Virginia, and through southern Quebec and Ontario's central
and southern parts to northern Michigan, Wisconsin, eastern Minnesota
and northeastern Iowa. The species has been reported in most of New
Brunswick, north-central Nova Scotia (including Cape Breton Island),
southern Quebec, and both south-central and north-central Ontario.
Southern Ontario holds the largest known population, estimated at 412
individuals. The province's north-central population is substantially
smaller and more scattered, occurring in an area dominated by
agriculture. Both populations have been relatively stable over the past
few years. Quebec's 56 known populations are small, consisting of 50 to
200 individuals each. Seven of Nova Scotia's nine populations appear to
be declining, due partly to the pet trade. None of the province's
populations exceeds 100 individuals. Anecdotal evidence suggests that
the New Brunswick populations are common and stable.
Habitat
The
species is associated with moving water; it frequents streams, creeks
and rivers. It is also one of the most terrestrial members of its family
and occupies a great variety of habitats, including forests, but
favours riparian areas with open canopy. It also prefers moderate
currents, clear streams and drainages. Generally, the Wood Turtle
overwinters in water, spends its spring and fall in or near water, and
summers on the ground. It appears to select habitats rather than use
them randomly.
Biology
Adult Wood Turtles are omnivorous;
hatchlings and juveniles may be more carnivorous. The diet includes
berries, tender leaves of shrubs, flowers, fiddleheads and mushrooms,
also invertebrates including earthworms, insects, and slugs. Aquatic
foods include dead fish, snails, tadpoles, insect larvae and algae. It
may also feed on newborn mice, other turtle eggs, the eggs and young of
ground-nesting birds. Some studies in the United States have noted Wood
Turtles stomping on the ground, mimicking vibrations caused by rain, to
entice worms to surface. Individuals become sexually mature at 7 to 20
years of age (17 in north-central Ontario). Northern Wood Turtles tend
to be older and larger when they reach maturity compared with their
southern counterparts. Mating can occur at any time outside the
hibernating season; peaks in mating are evident in spring and fall. The
nesting season extends from May to early July, depending upon the
geographic location. In north-central Ontario, most nests are laid on
sandy river embankments. Nests have been observed in sandy areas of
man-made gravel pits and agricultural fields in other parts of the
province. Females lay one clutch of 4 to 18 eggs per year when they
nest; eggs are elliptical, white and thin-shelled. The incubation period
varies with temperature (40 to 67 days at temperatures above 30 ?Ǭ?C in
a laboratory). Wood Turtles in the wild can live more than 30 years;
captives live up to 58 years. The maximum age is thought to be 70.
Threats
Canadian
populations are probably limited by two major factors: temperature, and
habitat requirements, particularly clear, sandy or gravel-bottomed
streams. Populations in the United States are declining largely because
of habitat destruction and fragmentation, and the pet trade. As the U.S.
populations decline, the species' value increases, which could create
conditions for Wood Turtles being taken from Canada for commercial
purposes. Predation from raccoons, skunks, cats, dogs and humans could
be contributing to the species' decline. Toxic pollution may also be
detrimental.